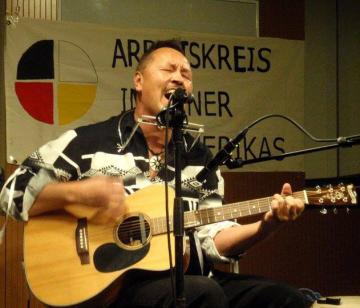 We're really excited to have Art Napoleon joining us at the banquet on Saturday evening!
Art Napoleon, a former Chief of the Saulteau First Nation in Treaty 8 BC, is a conservationist, faith-keeper and educator who interprets life through the holistic lens of Cree worldview. Walking in "two worlds," Art is as comfortable on a big city stage or in a boardroom as he is skinning a moose in a hailstorm with a pocketknife. Ancestral knowledge and the desire to create sustainable and ethical alternatives are the foundations that guide him in the many projects he is involved with.
Art is host and co-producer of The Aboriginal Peoples Television Network's popular show Moosemeat & Marmalade, an international food series that showcases Indigenous foods, traditional knowledge, and outdoor cooking techniques. He grew up in the boreal forests and mountains of Northern BC, where he learned bush-skills including traditional plant use and outdoor cooking. Art holds an MA in Language Revitalization from the University of Victoria, is a language educator, and practices subsistence activities on a seasonal basis. Based in Victoria BC, Art remains connected to his home territory and his Cree and Dane Zaa roots. When he is not producing TV, he tours regularly as a performer and speaker and also serves as a juror on arts and culture organizations across Canada. His moose stew has been known to cure hangovers and his campfire tales have mended broken hearts…or so the stories go.

Art Napoleon Music @artnapoleon